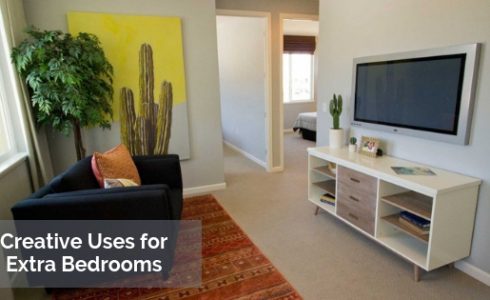 Imagine you're fortunate enough to have an extra bedroom; whether it's because the home you purchased had more bedrooms then you needed or you're a new empty-nester. What would you do with it?
Your first instinct may be to turn it into a guest room or home office. While those options are perfectly practical, here are a few other unique room ideas to consider as well:
Reading Room
Did the library in Beauty and the Beast make your heart swoon? If so, consider turning your extra space into a library or reading room! This would be any bookworm's dream! Fill the room with bookshelves and plenty of comfortable seating. Be sure to include plenty of lighting, from task lights, wall and overhead lights so you can read throughout the day.
Meditation or Yoga Room
This room will definitely have a different vibe. Yoga and meditation have increasingly become popular and setting up your extra room into a yoga room is a simple task: paint the room in a calming color, and keep the furnishings simple with floor cushions, throw pillows, and yoga mats.
Studio/Hobby Room
Nothing having to completely put away your art or hobby supplies is a luxury but can be a reality if you have the extra room! Having a dedicated space for your art and craft means you're more likely to do it more regularly.
Fun Zone
The fun zone can be a lot of things depending on the age of your kids. This is a great way to keep your kids' toys confined into a single space instead of strewn across the house. As the kids age, the room can convert into a comfortable lounge area where they can hang out with friends in a space that isn't their bedrooms. Another bonus? Once the kids are grown, you can reclaim the room for another reason!
There's no limit to how you can use an extra room, whether as a guest room or office or something completely different. Whichever you choose, make sure it speaks to what you and your family enjoy.
When you're ready to visit a Discovery/Seeno Home community in Northern California, visit us online at DiscoveryHomes.com and explore our great new home communities across the San Francisco Bay Area (and Nevada)!